Lisa Cooper, RN, recently passed her exam to become an Ostomy Management Specialist. She will continue working in the Southern Coos Hospital & Health Center Outpatient Clinic.
An Ostomy Management Specialist (OMS) is a specialized board certification in ostomy management. It demonstrates a candidate's proficiency and mastery of essential knowledge and skills regarding the management of the ostomy patient. An ostomy is a surgery that creates an opening in the abdomen, changing the way that waste exits your body. This procedure is used to treat various diseases of the urinary or digestive systems.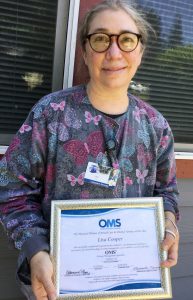 "I wanted to express my gratitude for assisting me on successfully passing the exam and becoming an Ostomy Management Specialist," Cooper wrote to SCHHC CEO Ray Hino, SCHHC CNO Cori Valet and Southern Coos Hospital Primary Care Clinic manager Dawn Gray.
"I worked hard to get this certification and am very thankful for this opportunity. I love helping my patients and the extra knowledge I gained from this education has already helped me further assist my ostomy patients. As far as I am able to find, I am now the only active OMS RN on the Oregon coast. I hope that while helping more people, that I will also help bring an increased revenue stream to Southern Coos Hospital. Thank you all again for your support!"
SCHHC CEO Ray Hino thanked Cooper for her dedication and commitment to earning the certification.
"It's an important service we can offer here at Southern Coos Hospital, along with additional RN support and services," Hino said.