History of Hospitals in Bandon, Oregon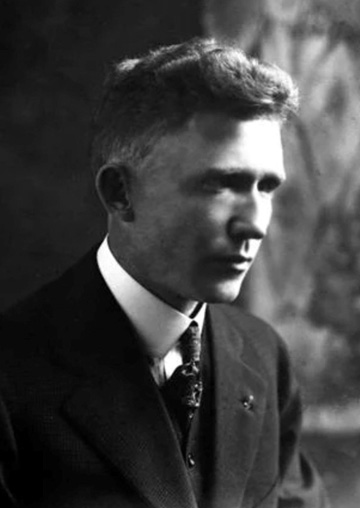 Dr. Roland V. (R.V.) Leep, M.D (1887 – 1929)
Leep was born in Myrtle Point, OR in 1887. Attended College at the Agricultural College at Corvallis (now Oregon State University).  Attended medical school at the State University in Portland, earning his M.D. on May 1, 1911.
He relocated to Bandon to begin his medical practice on January 11, 1912.
Shortly after beginning his practice in Bandon, he opened an Emergency Hospital (Alabama and Wall Streets, across from Masonic Temple) (photo)
Leep died tragically, while on a trip hunting sea lions at the Cape Blanco Reef with 3 Portland doctors in June of 1929. Dr. Leep was killed accidentally while moving a loaded shotgun inside his boat while preparing to land in choppy waters.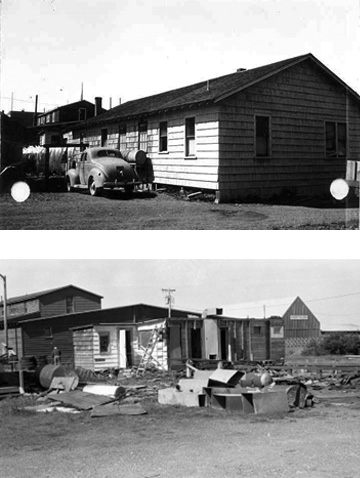 R.L. Leep Memorial Hospital (1937 – 1955)
Located on First Street in Old Town Bandon between the current location of Wheelhouse restaurant and Las Fiesta Mexican Restaurant on the south side of the street
Originally built as Red Cross Headquarters, used to serve survivors of the 1936 Bandon fire
The hospital consisted of a 30' X 40' main section and a 16' X 16' lean to, which included two (2) three (3) bed wards and an operating room
Closed on September 1, 1955
Bandon had no hospital from September 1, 1955 until Southern Coos General Hospital opened in 1960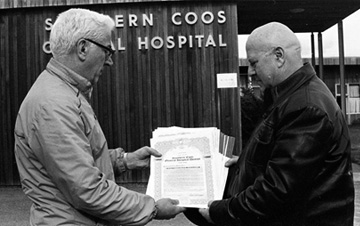 Southern Coos General Hospital (1960 – 1999)
Southern Coos Health District organized July 27, 1955 by vote of registered voters in the District boundaries.
Bond Issue for $203,000 passed in February 1956
Sale of bonds delayed until 1958
The cost of building and equipping Southern Coos General Hospital was $383,447
Opened in 1960
Located on the hill off Ocean Drive overlooking the river and the lighthouse
Closed in December 1999 when the new Southern Coos Hospital was opened.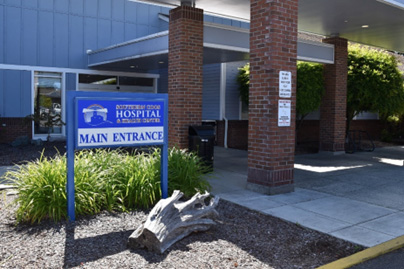 Southern Coos Hospital & Health Center
Located at 900 11th Street, SE in Bandon, Oregon
Construction from 1998 to 1999
Dedicated on September 9, 1999
Opened in December 1999 as a 21-bed hospital
Granted Critical Access Hospital designation in November 2000
Continues to maintain legal status as a Health Care District
A Multi-Specialty Clinic was opened on March 2,2015
The hospital serves Southern Coos County and Northern Curry County. This primary service area is populated by about 10,000 residents.