BANDON – Helping nurses and other medical clinicians stay up to date on their skills is not only important, it's required.
To help with that effort, Southern Coos Hospital & Health Center recently set up Nursing Skills Day, an event that will be repeated quarterly.
Organized by SCHHC RN Clinical Educator Arianne Booth, Nursing Skills Day was held both April 24 and 26 in the building adjacent to the hospital owned by Dr. Douglas Crane, SCHHC Hospitalist who graciously offered an empty area of the building for use.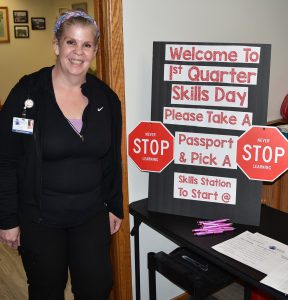 Stations were set up throughout the room where clinical staff tested their skills using a "passport" to make sure they didn't miss a station. Some stations required hands-on testing, while others were mainly informational.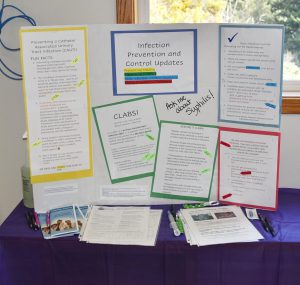 SCHHC has held similar trainings in the past and reinstated them when Booth came on board in September 2022 with a wealth of knowledge in nurse education.
"There are quite a few competency mandates that DNV requires and we're trying to break those down and spread them out over the course of a year," Booth said.
In November 2022, SCHHC, under the direction of CEO Raymond Hino, the hospital's board of directors, executive team, managers and staff, successfully completed the accreditation process from DNV – Healthcare, a globally leading quality assurance and risk management company.
By earning accreditation, SCHHC demonstrated it meets or exceeds patient safety standards (conditions of participation) set forth by the U.S. Centers for Medicare and Medicaid Services.
Trainings such as Nursing Skills Day ensures the hospital will continue to meet those DNV standards.
"It's a way to streamline and unify nurses' knowledge so everyone knows the correct way and feels empowered in their practice," Booth said. "Hopefully they walk away from Skills Day learning something new."
Volunteers from various SCHHC departments helped with each station.
Booth said clinical lab employees wanted to improve lab processes at the hospital, which in turn improves patient outcomes. Lab employees Shawn Farrier and Cheyanne Krossman presented a PowerPoint and presentation as well as a quiz.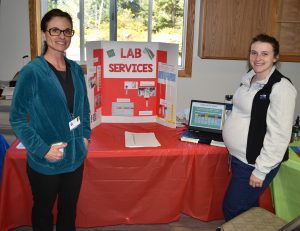 Lynell Griggs RN, with the SCHHC Med-Surg Department, presented information on post-orthopedic surgery care.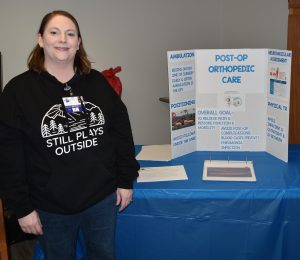 Supervisor Lori Colby and HIM Specialist Alicia Coffey from the Health Information Management Department explained in detail the difference between an Advance Directive and a POLST (Physician Orders for Life-Sustaining Treatment).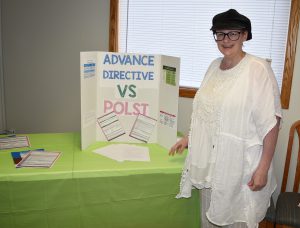 SCHHC Infection Control and Employee Health Nurse Denise Ebenal presented an overview of hospital infection control.
"Denise plays a very important role, especially with DNV," Booth said. "DNV expects nurses to be educated in infection control. She will present at every Skills Day we have."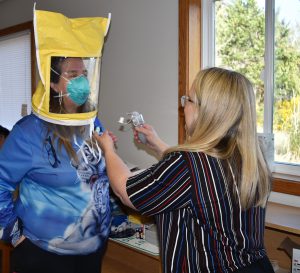 Lisa Cooper RN, with the SCHHC outpatient clinic, presented IV therapy and sterile port insertion.
"She really knocked it out of the park," Booth said.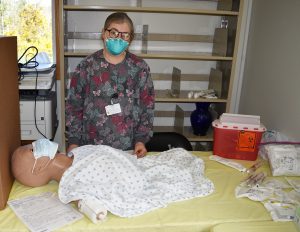 Alana Reed RN, with the SCHHC Med-Surg Department, presented hands-on experience with critical IV drips.
"Alana also did a lot of the work on getting protocols and policies ready and presented to nurses," Booth said. "Each presentation was unique to the nurse. I really value her expertise and her years of clinical experience and her ability to teach from novice to experts. She was my partner in crime in helping me plan Skills Day."
Julie Buck, CNA II with the SCHHC Emergency Department helped attendees understand the EMTALA (Emergency Medical Treatment and Labor Act) procedure and how to triage patients in the ED to prepare them for transfer to a facility with a higher level of care.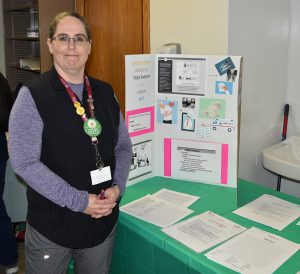 Nick Lucas, SCHHC Emergency Department RN Manager, ran the ZOLL defibrillator station, teaching hands-on skills to help nurses and clinicians feel more comfortable with the machine.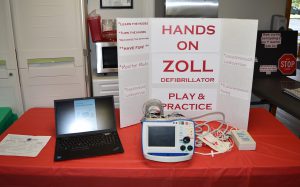 "The nurses have been asking me for that kind of training for months," Booth said. "They don't want to learn it in a crisis. I think that station was popular with the RNs."
Another Nursing Skills Day will be held in July, then in September and again in early December, featuring different stations each time.
"We've gotten good feedback about the event, and we had a really robust turnout," Booth said. "Those who attended learned a lot and said they'll take what they learned and put it into practice, which is success in my book."