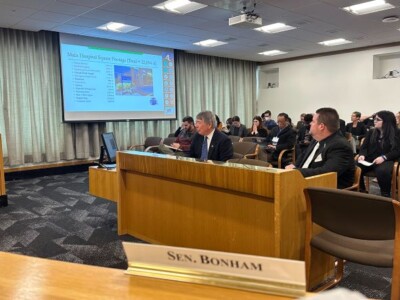 BANDON – Southern Coos Hospital & Health Center CEO Raymond Hino returned from a three-day Rural Health Policy Institute conference in Washington, D.C. with hope for the future of rural healthcare.
The conference was sponsored by the National Rural Health Association and held Feb. 7-9. Hino was part of a group of five Oregon attendees invited by Robert Duehmig, interim director of the Oregon Office of Rural Health.
The group also included representatives from Wallowa Memorial Hospital, Oregon Health & Science University and the Oregon Department of Veterans Affairs.
"The trip was a great opportunity to meet with folks who support rural healthcare, from the perspective of the National Rural Health Association as well as Washington, D.C.-based agencies that help fund and create policies for rural healthcare across the country," Hino said.
Over the course of two days, Hino and other Oregon attendees met with Oregon elected officials or their senior staff members, including Sen. Jeff Merkley and U.S. representatives Earl Blumenauer, Suzanne Bonamici, Val Hoyle, Lori Chavez-Deremer, and Andrea Salinas.
Hino said although they weren't able to meet with all the elected officials personally, meeting with senior aides is still a productive opportunity to get challenges, concerns and priorities in front of those representatives.
"My role in the process was to be a representative for Critical Access Hospitals and rural hospitals in Oregon in particular, to talk about potential changes to the CAH program that could negatively affect our hospital, and to advocate for positive changes," Hino said.
His input was "very well received," he added.
"Clearly, all of our representatives see preserving rural healthcare as a priority," Hino said.
Hino said Robert Duehmig of OORH, who planned the trip, later told him it is much more effective when local constituents are present at those types of meetings.
"Legislators and Washington, D.C.-based officials like to hear from folks back in their districts," Hino explained. "Robert said he can speak to all of these issues but they have greater impact when spoken by people who live in the rural areas of Oregon," Hino said.
The conference was also an opportunity for Hino to meet with people in organizations who have a huge role in forming rural policies and programs.
"One of the most impactful events of the conference was the Legislators' Reception on Wednesday night, when attendees got to meet in a more informal environment," Hino recalled. "I think we made the most inroads there, especially with Sen. Merkley's staff. We spent over an hour talking about Oregon, and specifically about Southern Coos Hospital & Health Center."
Hino said it was an honor to be chosen as the only Oregon hospital CEO to attend the trip and the expectation is that communication with legislators will ultimately create opportunities, not only for rural healthcare in Oregon but also for SCHHC.
Testimony for SB 829
In an unrelated trip, Hino was set to travel to Salem on Wednesday, Feb. 15, to testify before a legislative committee on a bill introduced by Oregon Sen. David Brock Smith, R-Port Orford, of District 1, which includes Bandon.
SB 829, would appropriate $250,000 from the state's General Fund to the Oregon Department of Administrative Services for distribution to Southern Coos Hospital & Health Center for the purpose of paying for engineering costs related to facility expansion.
The bill's introduction is directly related to an on-site meeting last fall when Brock Smith toured SCHHC and met with staff. During the meeting, Hino and staff members detailed how space-challenged the hospital is, especially in the Emergency Department and Clinical Lab.
"I'll be testifying in favor and support of that bill," Hino said. "Once it's heard in committee, hopefully it will make it to the next committee. It's one of thousands of bills that will be introduced this year, so it's obviously not a sure thing, but it's something that is important."