In an effort to learn more about how the various departments within the hospial work, Southern Coos Hospital & Health Center CEO Ray Hino recently spent time in the Dietary Department, under the guidance of the department's manager, Rita Hamilton.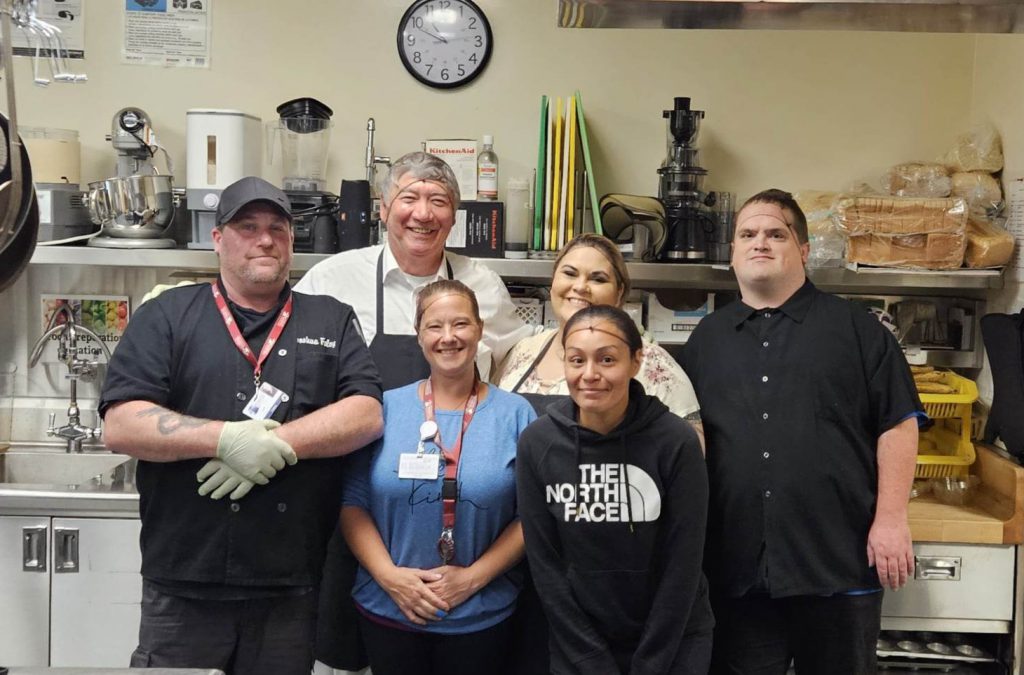 With Katrina Mann, Hino prepared a ham omelet with hash browns and fresh fruit in the hospital's kitchen for breakfast, and baked chicken and a salad for lunch.
"We really made a nice breakfast and lunch and I think our patients appreciated it," Hino said.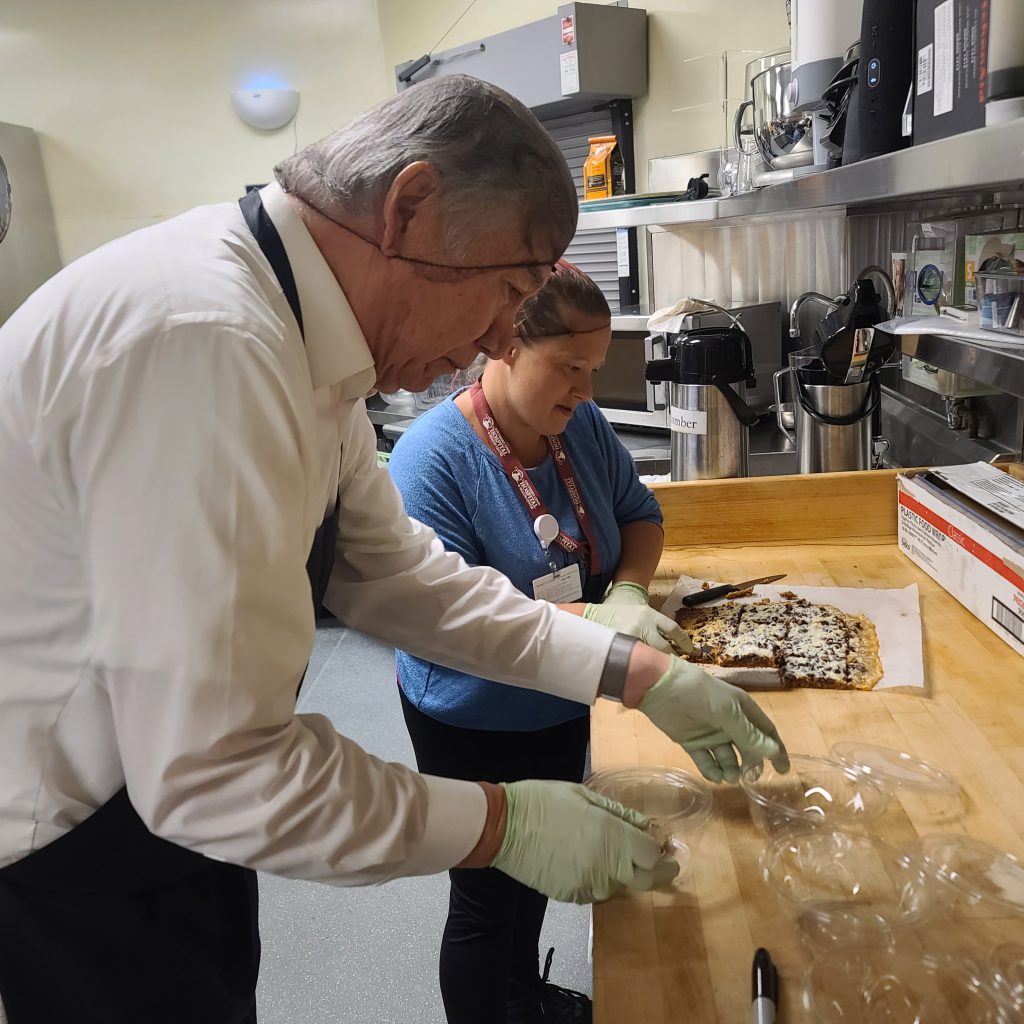 Hino and Dietary staff went out on the floor, where he helped serve patients and learned more about the well-stocked Nourishment Cupboard, which is used during hours the Dietary Department isn't open, to provide a healthy snack for newly admitted and Emergency Department patients and inpatients needing nourishment after hours.  The Southern Coos Health Clinic also provides a Nourishment Cupboard for outpatients who need a little something to tide them over during a long appointment.
The SCHHC Dietary Department staff starts work at "o-dark-thirty," Hino said, and works throughout the day, serving patients, providers and staff a variety of healthly food choices. Patients and providers are offered three meals per day and staff are offered a salad and soup bar for lunch prepared by Vanessa Ferrer. Employees will also soon be offered breakfast meals and an expanded lunch menu. For visitors, there is coffee, tea, hot water for tea or cocoa and iced tea.
The Dietary Department has also provided catering for Southern Coos Health Foundation events and fundraisers such as the Quarterly Art Show receptions, Women's Health Day and the Golf for Health Classic. Hamilton handles all the menu planning, supply ordering and other duties of managing the department.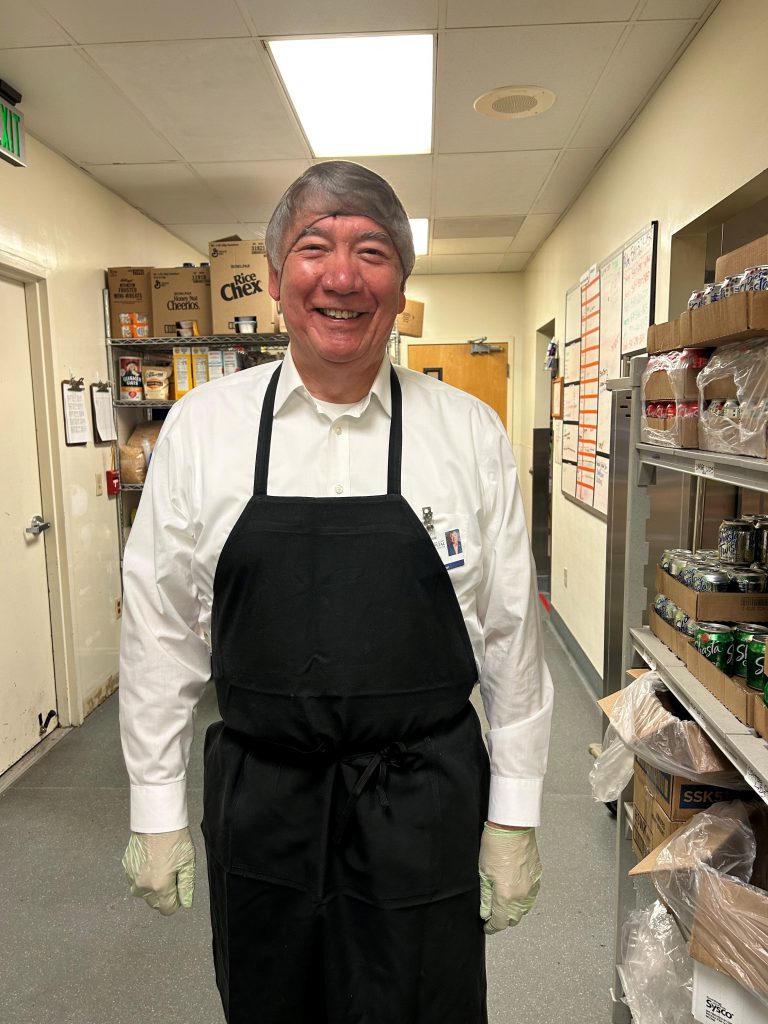 "My team really puts their hearts in everything they do," said Hamilton. That team consists of Hamilton, Stevie Bettelyoun, Katrina Mann, Vanessa Ferrer, Josh Foley, Cindy Pennington and Noah Bassine.
Hino has spent time in other hospital departments as well in his efforts to gain a better understanding and working knowledge of the entire facility.
"I learned a lot during my time in the kitchen," Hino said. "I really want to thank our Dietary Department," he added. "They are a great team who work well together."