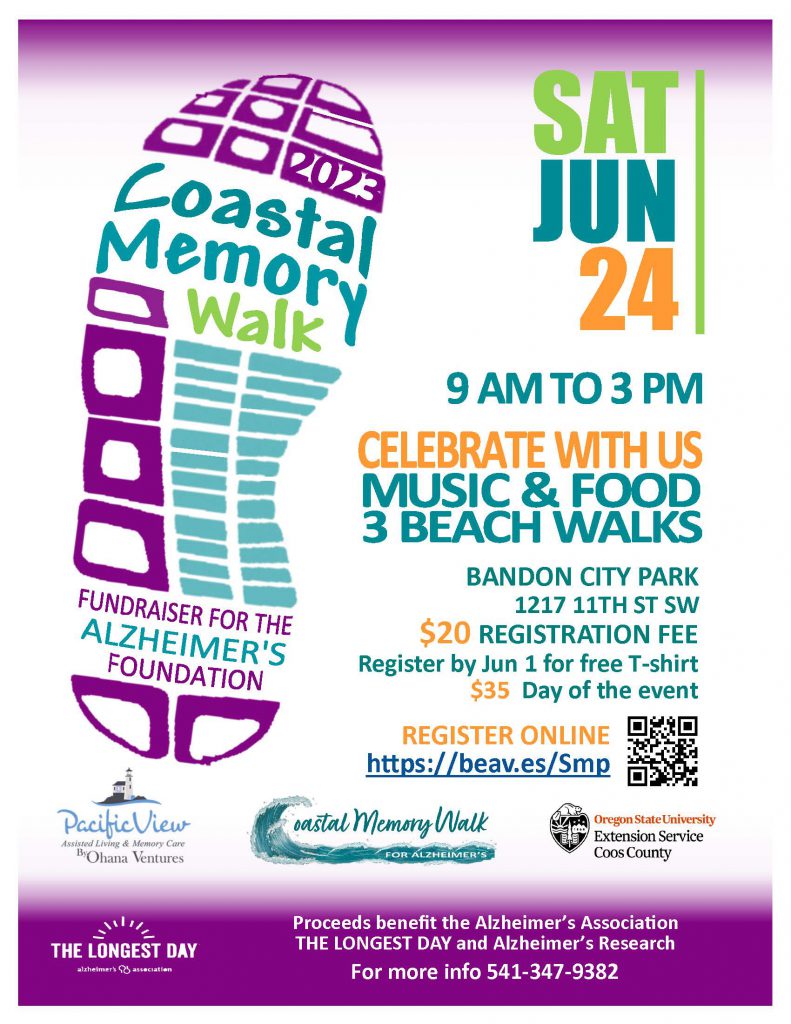 The Coastal Memory Walk in Bandon is an annual fundraiser to increase awareness and support research efforts to defeat Alzheimer's Disease. The walk is in honor of those who experience the impact of Alzheimer's.
The 2023 walk on June 24 will start at Bandon City Park and head two blocks west to the Pacific Ocean. There it will split into three paths. The Pelican (2.5 mi) will take you down 124 stairs to the beach where you will head south to Face Rock. The Seagull (1.5 mi) can go down either staircase to the beach and past Elephant Rock. The Puffin (1 mi) is an ADA-accessible paved cliff walk overlooking stunning beach vistas. All three walks return to City Park for music, food and more. Dogs and kids welcome.
Those who register before June 2 will receive The Longest Day T-shirt, honoring the summer solstice slogan, "The day with the most light is the day we fight." Just select the Join Our Team button at the top of the page at https://beav.es/Smp.
The park opens at 9 am and the walk kicks off at 10. You'll have plenty of time to enjoy the beach, etch your comments in the Memory Circle and stroll through the Promise Garden in the park. We'll have music, food and camaraderie to make your walk day a memorable one.
Not a walker? Spend your day at City Park while others do the walking. Have a schedule conflict or not in the area? Consider making a donation to the Coastal Memory Walk for Alzheimer's.