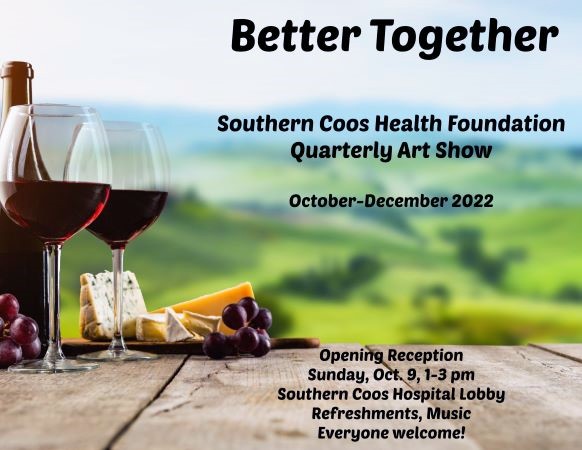 The theme Better Together is about two or more things that go together, like ham & eggs, wine & cheese, sand & sea, moon & stars, highways & biways, pen & paper, black & white, surf & turf, red, white & blue, song & dance, ebb & flow, rhythm & blues, you & me.
There is a country music song by Luke Combs titled Better Together.  Listen to it on YouTube for more ideas, or look on the internet for "things that go together." It can be people, pets, sky & clouds, birds & trees, two peas in a pod, unicorns & glitter, pairs of things, horse & rider, sunshine & shadows, cats & kittens, trees & tire swings, landscape, still life, seascape, people, colors — you name it. Have fun with it!
The Southern Coos Hospital & Health Center will host a show of artworks relating to the theme of Better Together. This show runs October through December. As usual, you can be creative in your interpretation of the theme, keeping in mind that art on the hospital walls is meant to entertain and de-stress the patients, families, staff, and general visitors. It is not a venue for nudity, violence, morbidity, or as a political soapbox. Thank you for your continued positive approach to art in these shows.
Featured Artist: Food pairings!
Instead of a regular featured artist, this time show coordinators Ava Richey and Susan Lehman want to feature ALL of the artwork depicting FOOD PAIRINGS that are brought in on the featured artist walls. So put your thinking caps on and come up with some great ones: mac & cheese, eggs & bacon, pancakes & syrup, strawberries & cream, peaches & cream and more!
Southern Coos Hospital & Health Center's Art Program continues to remain free to enter. Please consider donating to the Hospital's Art Fund if you are able. For more information or to purchase any of the artwork, please email Scott McEachern at foundation@southerncoos.org or Amy Moss Strong at amossstrong@southerncoos.org or call 541-329-1038.