Funds will be used to support the 20th annual Women's Health Day event
BANDON – 100 Strong Bandon members chose the Southern Coos Health Foundation as its November charity in support of the 20th Annual Women's Health Day.
The group's generous donations brought in $3,875 to support the event, which will be offered free of charge on Saturday, Feb. 25, 2023 at the Bandon Community Center and the Sprague Community Theater.
The theme of the February 25, 2023 Women's Health Day event is "Mindfully Navigating Life Changes" which nominators Alix McGinley & Amy Moss Strong assured 100 Strong Bandon members means more than just menopause.
The Southern Coos Health Foundation sincerely thanks the members of 100 Strong Bandon for their support.
About Women's Health Day 2023
Join us for the 20th Annual Women's Health Day, sponsored by Southern Coos Hospital & Health Center and the Southern Coos Health Foundation. This year's topic is "Mindfully Navigating Life Changes."
Our keynote speaker and special panel will present at the Sprague Theater in the morning, then attendees will move to the Bandon Community Center for breakout sessions.
Breakfast and lunch will be served and there will be vendors, raffles and more.
The event will also be live-streamed on the Southern Coos Hospital & Health Center Facebook page and the SCHHC website for those who aren't able to attend in-person.
This in-person event will be limited to 125 people, so reserve your spot today. The entire event is free to attend, thanks to our generous sponsors, including 100 Strong Bandon.
Click HERE to reserve your spot for the in-person 20th Annual Women's Health Day.
The event is free to participants so the 100 Strong Bandon funding will go to help with the cost of venue rental and catering, facilitators, speakers and swag bags.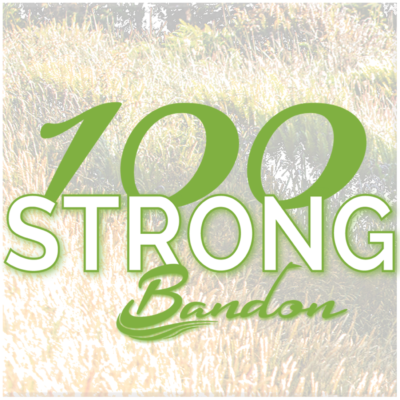 About 100 Strong Bandon
100 Strong Bandon is a group of 100 women committed to financial support of charitable organizations serving Bandon area residents. The group gets together four times a year for a one-hour meeting, to learn about local charities, and each donate $50 (or more) to the charity selected by the group, for a total impactful gift of $5,000+ each quarter.
100 Strong Bandon is open to women 18 years and older living in the Bandon area. The group is coordinated by the Bandon Chamber of Commerce.
The group was inspired by 100 Women Who Care, a group founded in November of 2006 by Karen Dunigan of Jackson, Michigan, as a brilliantly simple way to raise money efficiently and quickly for local charities. Her group of 100 women, at their first one-hour meeting, each wrote a check for $100 directly to the charity, raising $10,000 to buy 300 new baby cribs for an organization in their city. Since then, they have grown to over 200 members and Women Who Care chapters are forming all over North America. These groups collectively have donated more than a million dollars to locally based organizations.
To find out more and to join 100 Strong Bandon, complete a membership application form HERE. New members are welcome throughout the year.
All of the leaders and members of our 100 Strong Bandon giving circle are volunteers. The group does not keep any of the money that is collected. One hundred percent of all donations go directly to the selected charity.
100 Strong Bandon meets quarterly on the third Wednesday of February, May, August & November, from 5:30 to 6:30 p.m. The next meeting will be held on Wednesday, Feb. 15, 2023. The location will be announced closer to that date.